Visualization of Domain Life Cycle
Every domain goes through different periods, from the time it's registered until the time it becomes available for purchase again. Once a domain has passed its expiration date, what happens next can differ slightly depending on the domain's extension or TLD. Briefly speaking, a domain goes through the following stages:
Available
Active
Expired

Grace period
Redemption period

Pending Deletion
Besides you can see a visualization of a domain life cycle and an explanation for each period: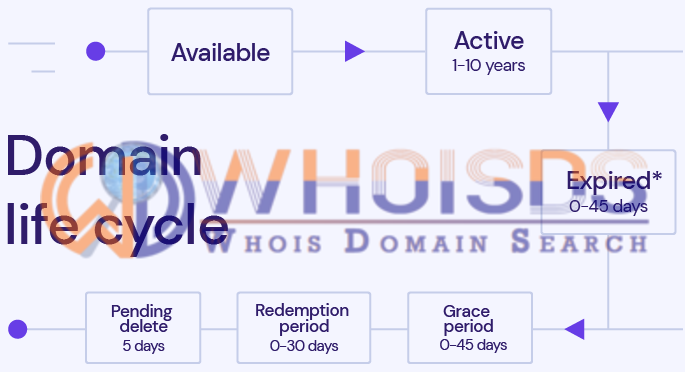 We provide parsed WHOIS data of expired domains as daily downloads. Each day you will receive expired domain names, along with it's whois record containing contact details (Name, Email, Phone & more) of the domain owner. You also get instant access to database of previous 10 days when you subscribe.
Note* the domains you get in this package are in redemptionPeriod.
We also provides DELETED DOMAIN UPDATES for just $30/month. In this package you can get only domains that are available for registration. From below table you can subscribe for deleted domain updates.
| Package Name | Price | Sample | Subscribe |
| --- | --- | --- | --- |
| Expired Domain Updates (Domain + Whois) | $99/Month | Download | Click here |
| Deleted Domain Updates (Only Domains) | $30/Month | Download | Click here |
---
Frequently Asked Questions
What happens when a domain name expires?
When a domain name expires, it will typically stop operating and any associated services will cease to function. This may include website access as well as the sending and receiving email.
Can i recover a domain which has expired?
Typically, you have a period from 30 to 90 days to re-activate an expired domain name before it is released to be registered again. However, it should be known that in most cases it can be a costly and sometimes lengthy process and is cheaper to make sure to renew before expiry.
Are the expired domains contains whois records?
Yes, our expired domains comes with whois database contains name, number, email, address etc of domain owner.
What is the status of expired domains?
Our expired domains are generally in redemptionPeriod, it was the just before step of PendingDelete.
When Do Expired Domains Become Available?
After completion of PendingDelete period the domain will be available for registration.
If you still have any questions, please contact us at